This month marks my 10th year as a freelancer. It's been a wild ride.
I started out as a lone wolf. I became a consultant in the music industry, then a travel writer, then a foreign correspondent, then a Google editor.
I reported from more than 30 countries in just three years — and somehow found time to get a politics degree and a creative writing MA on the side. I also ran Guardian Masterclasses and won Young Freelancer of the Year at the IPSE Awards.
This all sounds impressive, and it was good fun, but I had no direction in my career while any of this was happening. I was also a bit of a workaholic. But I was experimenting, and learning a ton about myself and the world. I yearned for something else, though — to build something.
So I started a consultancy in my hometown. I took on an office, employed people and went to local networking events. We won some awards and built up decent revenue. But I hated every minute of it. Who the hell was I to tell anyone how to work in a traditional company anyway? I had no experience of doing that myself. The whole thing was a disaster.
After this failed venture, I got depressed. I'd made poor decisions, and they'd cost me friends, opportunities and happiness. I questioned whether I still wanted to write and considered training as a chef. I was only 24, I told myself, and young people swap professions all the time.
In the end, I took on the role of managing editor for the future of work at Google. I became a subject specialist, and I built and managed distributed teams of freelancers to deliver ambitious research and editorial projects.
Working for a big tech firm didn't ultimately fit with my personal mission or preferred pace, but all these experiences have led me here.
I probably wouldn't have started writing this newsletter or felt ready to tackle my first book if things had happened differently. I almost definitely wouldn't have had the confidence or skills to create what I have today: a "company of one" supported by a distributed and handpicked team of collaborators.
*NEW* Freelancing Masterclasses
A decade is a long time, and I've learned a lot. Next month, I'll be sharing some of that knowledge in three masterclasses alongside Tiffany Philippou and Jess Shanahan. Join us for the first one on Thursday 2nd July at 5pm UK time. We'll focus on helping you find the right niche for your own company of one.
---
The Big Idea: Distributed Companies
Brands like Twitter, Facebook and Slack have recently announced they'll be operating as "remote-first" companies going forward. Borderless recruitment has been a big tech trend for years: they choose the best talent for the job, with little regard for location.
The public conversation so far has centred on how pay scales will work for employees based in different places, but the more interesting question is how this changes the status quo around business structures and how work gets done.
Companies in the knowledge economy will have to be distributed by design — with no centralised HQ to be "remote" from — to compete. That goes for smaller businesses and freelance "companies of one" just as much as bigger players.
There are so many questions about the uncoupling of work and location. What does distributed work mean for our lifestyles and identities? How will we live differently in future?
---
Maker of the Week: Alix Bolle
Alix Bolle is responsible for EU policy and strategic partnerships at Energy Cities. I say "responsible for" rather than "in charge of" because Alix's organisation is distributed, multi-disciplinary and flat.
That means the experts that make up the network come from a range of fields, they work from wherever they are, and there's no system of hierarchy (i.e. nobody is anybody else's boss).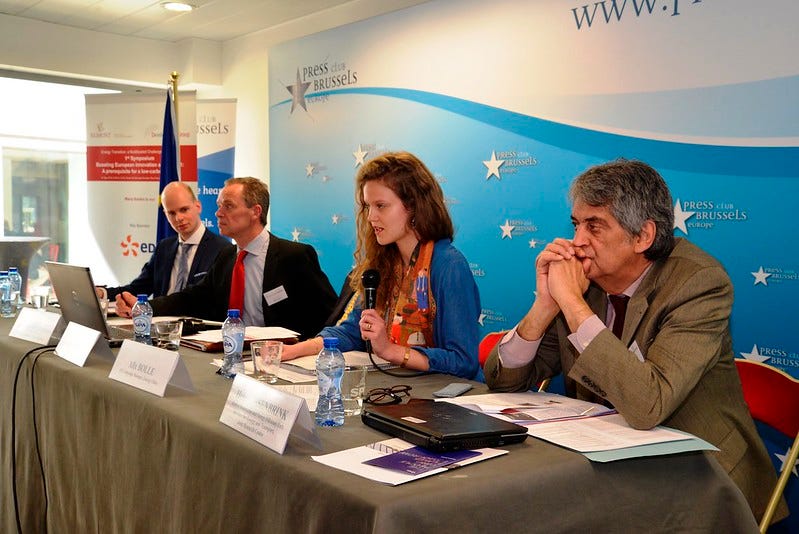 Alix and I met while I was working on the Future Cities Scotland longform project with Nile earlier this year (we collaborated on this story about Aberdeen's transition to renewable energy). I've been blown away by her fearless approach to living the future of work, even though her core focus is elsewhere — in coordinating city-to-city collaboration and facilitating transitions to renewable energy.
The Energy Cities team has found that distributed work is valuable too: many projects have blossomed from one person's idea, shared in ways that wouldn't be replicated in traditional structures.
---
Handpicked for You
🗞️ "It's Time To Build" by Marc Andreessen
The legendary venture capitalist Marc Andreessen argues the pandemic has highlighted the fractures in our systems of work, education and government globally. Now, he says, we need to establish future-proof infrastructure to unlock human potential and, ultimately, build a better and more prosperous world.
🎧 Distributed Meets Jason Fried, CEO of Basecamp
Basecamp CEO Jason Fried speaks to WordPress founder Matt Mullenweg about the human challenges of running a distributed organisation, highlighting the importance of treating workers like adults. With reports of companies using surveillance software on remote employees during lockdown, Fried's thoughts are certainly welcome.
🖥️  Open Collective: "organising the internet generation"
Open Collective helps collaborative projects and community groups get organised, raise funds and work transparently online. It's used by a lot of prominent open-source coders whose work is behind products from Microsoft and Airbnb. If you're interested in trialling distributed structures IRL, grab some friends and launch a collective.
---
Support Counterflows
Each week, I curate stories, ideas,  tools and resources for curious people around the world.  All the content featured in these emails and on laurenrazavi.com is available for free to everyone.
If you enjoy what I publish, show your support by sending me a virtual coffee from time to time:
Here are some other ways you can help out:
Forward this email to a friend and tell them to sign up.
Spread the word about Counterflows on social media.
Say hello! Hit reply to share your thoughts and feedback.
Leave a comment on this week's newsletter.
Thanks for reading 🙏
-Lauren